This year was very exciting for the Happy Hearts Love Sharks wedding contest. For the first time the contest expanded to Hong Kong through the Hong Kong Shark Foundation and we celebrated the 3rd instalment of the contest locally.
This year 19 couples entered the contest and they diverted over 3500 bowls of shark fin soup from being consumed. That's 350 sharks!
Our FINtastic couples put forth amazing effort in spreading awareness this year and the race for first place was tight! Reaching all over the globe to spread the Fin Free wedding message, almost 3000 people voted for our couples. Although all couples are winners and champions of change in the community, unfortunately not everyone could be the grand prize winners. With no further ado, here are your 2012 HHLS winners!
Grand Prize Winners
With 1014 votes Amy and Jackson are our grand prize winners of the 6 day cruise to the Galapagos Islands! The honeymooners will explore the islands in style with daily opportunities to swim and snorkel in the pristine marine reserve. The Galapagos is one of the top diving and snorkelling destinations in the world!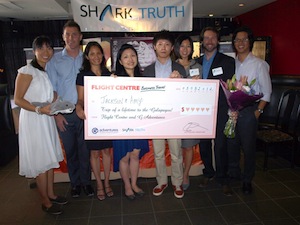 A photo from the press conference at The Original Szechuan Chongqing restaurant in Vancouver
Showing off their creative side Amy and Jackson made a video which received more than 4,600 views on YouTube! WOW!
"We thought it was the right thing to do. Many shark species are in danger of extinction. In order to save them, we have to keep them alive" – Amy & Jackson
Runners Up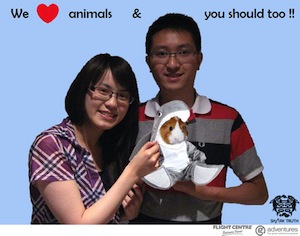 Coming in at a close second, Kaman and Felix did an amazing job spreading the Fin Free message and received 916 votes. The couple reached out to family and friends as far as Hong Kong for support! Kaman and Felix also connected with other shark conservation and environmental groups in Canada to spread awareness about the contest.
As runners up they are winners of an amazing Bonica camera.
Community Champions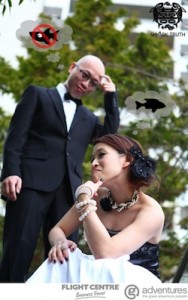 Elaine and Simon are this year's Community Champions. They are not only spreading the Fin Free message locally, but they are going Fin Free for their banquets in Hong Kong and Taiwan!
They are winners of a creative photo shoot thanks to RF Photography.
Harry's Favorite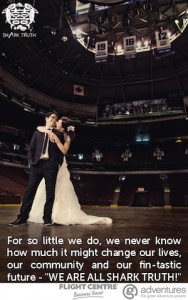 Jenny and Ben are Harry's Favorite, which was decided by a panel of Shark Truth members. Jenny and Ben were features on the FRONT PAGE of the North Shore News talking about their involvement in shark conservation. Read the full story here.
The couple have been great supporters of the Fin Free movement and shark conservation as Ben was also a contestant in the Sans Fin Soup contest last year!
Thank you again to all the couples who entered and started their own traditions. We are very proud of all of you for standing up for conservation and sustainable choices. We wish you all the best in your new adventures together.
And thank you to everyone who voted and supported the couples! Stayed tuned for an update from Amy & Jackson's trip as well as information on our contest next year!
Book your next trip with Robson Street Flight Centre and a portion of your booking will be donated to us when you mention Shark Truth.