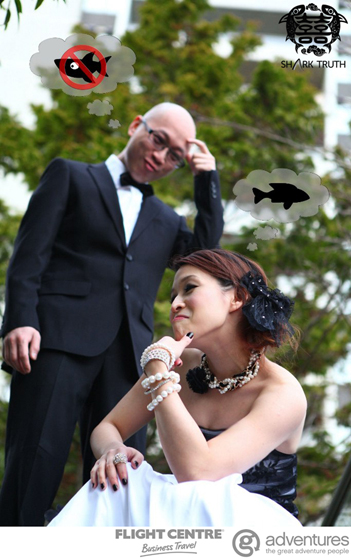 Wedding banquet location: Richmond, BC, Canada
Number of Guests: 100
Elaine and Simon's story:
Once upon a time on an island far away, there lived a mo lei tau kitty "Meow" and her cat family. When she was a teenage, her family decided to move to a better place to live with more salmon fish and seafood. In this wonderland, she met another oriental cat whose name was "Salmon", oops… Simon. He is a logical and realistic cat and also knows how to cook fish very well. After dating for 5 years, Meow believes that Simon is the one who will lead her to a bright future and promise to provide all you can eat sushi for a life time. Yes! We are getting married. Since we will not only have our wedding reception locally, but are also planning to have banquets back in Hong Kong and Taiwan we thought it was an excellent way to bring the fin free wedding message to our friends and society. Even though cats love to eat sustainable fish, we refuse to eat shark products to prevent extinction and save our oceans.
Please leave a comment to vote for us, each NEW person who comments is 1 more vote
Comments are now CLOSED winners will be announced August 1st