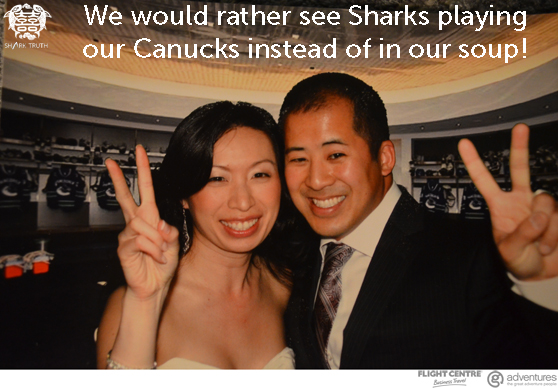 Wedding banquet location: Vancouver, BC, Canada
Number of Guests: 210
Flora and Gerald's story:
Once upon a time, there was a girl named Flora. She loved animals and had a little dog named Ludo. Three years ago, Flora met Gerald and this is how they met: http://capturethemomentmedia.com/blog/?p=344
Last year in Quebec City, after a horse carriage ride, Gerald proposed to Flora and she said yes! Then began the planning of their wedding for June of 2012.
Because of their background, their families wanted to have a Chinese banquet which would traditionally include shark fin soup. Gerald and Flora knew early on that this would be an issue for them as they had both seen documentaries on how sharks were harvested and ultimately killed only for their fins.
Gerald and Flora then approached their parents and told them that they wanted to remove Shark Fin from their banquet menu – both parents understood their viewpoint and agreed to have it removed.
When they recently had their wedding and banquet, all the guests enjoyed their meals immensely and did not even notice or ask about the shark fin soup.
Mission accomplished!
Please leave a comment to vote for us, each NEW person who comments is 1 more vote
Comments are now CLOSED winners will be announced August 1st