Runner Up Prize
Sometimes words are not enough to convey your incredible experiences to family and friends; Bonica's Snapper HDDV underwater camera package takes up the slack whenever words fail you! The Snapper's small size, impressive capabilities and versatility make it the perfect HD video camera to capture all of your unforgettable adventures on land and underwater.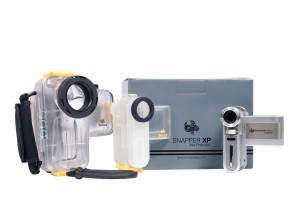 The small handy cam shoots up to 1080P high definition video as well as taking 8MP still pictures, images and video are recorded to standard SD cards- supported up to 32GB- providing you with hours of potential for filming. The Bonica Snapper HDDV is a perfect companion for your adventures on land but it is when you go underwater that this package really comes into its own.
Bonica's XP (Extra Protection) system incorporates a silicon skin that will allow underwater use to 4 metres, but when it comes time to venture deeper Bonica have provided a custom polycarbonate hard case which allows photography and video to be taken at depths of up to 55 metres. The dual use of the two cases allows total peace of mind for the safety of your camera, while being cleverly designed to minimize size and weight.
Bonica and President Kenneth Ho have been long-time supporters of Shark Truth and the Happy Hearts Love Sharks Wedding contest and we are delighted to be able to offer the fantastic Snapper 1080 HDDV underwater camera package as the runner up prize for the couple who collect the second highest number of votes in the main contest.